Sverigedemokraterna: how to label them and why?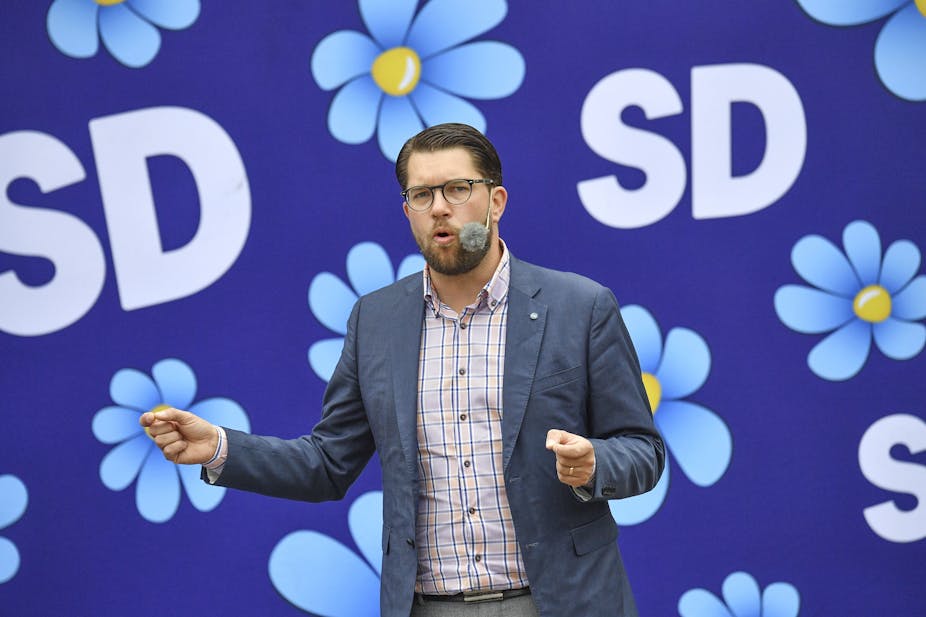 How did a party go from a 2,93% result in the 2006 Swedish general election to reaching as far up as 17,53% in the latest general election, in 2018? That is the principal question being asked by academics when reflecting on the rise of the Swedish far-right political party, the Sverigedemokraterna (the Sweden Democrats).
SD's Establishment and Growth
The party itself has existed since early 1988, yet its rise into prominence on the Swedish political stage only began taking place towards the beginning of the 2010's. How could this be? What role have the ideologies of fascism and populism had in this rise?
Following their entry into the Swedish parliament, the principal establishment parties, the centre-right 'Moderaterna' (Moderates), the centre-left 'Socialdemokraterna' (Social Democrats) along with the minor parties on both sides of the spectrum agreed on one point. They placed the SD (Sverigedemokraterna) under a cordon sanitaire, promising not to work with them when legislating, as they showed fear as a response to the sudden rise of this ideology, worrying that their voter bases were diminishing. They began to scramble to quickly ascertain any and all reasons why voters switched to such a radical ideology.
To anyone unaware of the traditional structure of the Swedish political system, it has typically been divided up into two blocs. These are the Left bloc, encompassing all parties on the left of the political scale and the Bourgeois bloc, encompassing all parties in the center and on the right of the political scale.
Ideology? Which ideology?
Ideologically, there is some doubt among the Swedish people of what label best suits the party. The Sverigedemokraterna describe themselves as "Social Conservatives", while descriptions by the Swedish people go anywhere from far right to center-right and/or libertarian. What is in good fortune for us debating this on an academic level, however, is that both the Swedish political establishment and the Swedish political scientist communities agree on them being far right.
But, how radical exactly is this ideology? The general public and media often discuss how and label the SD as an extreme party, arguing that they bear similarity to fascists of old, while some suggest populist is a better term for defining the party.
Fascist?
Firstly, let us look at the term and applicability of the term fascist. Ever since the birth of SD, although they contest the validity of said comparison, they have always been called fascist, sometimes even Nazi. If one looks back on their history it is indeed closely connected with Nazi movements in Sweden, and evidence would suggest it possibly still is, although the party itself strongly disavows this claim. One cannot deny, however, that the roots from which the party sprung are indeed of Nazi ideology, subsequently often referred to by many academics as fascist. Fascism is often defined as being connected race, and, by extension, racism. The latter being a topic one could argue is clearly exhibited in both SD's and their precursor party's old campaign slogans.
Along with the slogan on the left, the precursor to SD, whose name will become more relevant soon, when discussing populism, used various other slogans which would be regarded as especially racist in modern times. For example; "Låt inte din dotter bli en negerleksak" [Don't let your daughter become a toy for a negro], was one which caused outrage.
Populist?
The title of "populist" is one which SD have always seemed less reluctant to take on, as it is essentially a politically ambiguous title for an ideology. Generally, a populist party is simply a party claiming to represent the common people. This means that any party can easily call themselves populist. Academically, this causes a problem. Whereas one can be reasonably meticulous in defining the key tenets of fascism, populism is vague and can, for all intents and purposes, be applied to any party placing anywhere on the political compass. What this then does is to suggest something new, nuance.
So Which is it?
I would argue that nuance is the truth behind their ideology, but also behind their growth. In fact, it seems that it is the act of others shaming SD and its supporters as evil fascist which simply strengthens their belief that they are benevolent populists, saving the Swedish people from what they do not understand is wrong. Contrary to the belief of the rest of the Swedish political establishment, SD and its supporters see themselves as "The Good Guys" of Swedish politics, just that the rest don't know it yet.
Finally, regarding ideology, I think both nuance and perspective are relevant. I believe SD still exhibits clear aspects of fascism, however, not as explicitly as it did before its rise, and, given its current level of support, it definitely could be said to be representing a large amount of the Swedish populous. Ultimately, it seems to me that there is more fascism, albeit subtler than in decades prior, than populism to SD, but still both exist.